A month has passed since I last posted. I'm still learning Chinese and pondering the deep well of life, so 2021 should see more TV shows reviewed and more random posts from the fringes of consciousness etched onto this virtual stone tablet that is my blog.
Lately I've been occupied by music. I've never devoted myself full-time to composition. I've spent most of my adult life in communications. Over ten years I've been assigned to a variety of change projects as a corporate writer, in industries ranging from education to financial services.
Previous to communications, for five years I worked as an editor. Then I moved to Canberra, following my heart in a relationship that was fun, different and occasionally exasperating. But let us remember the fun and different part. She was funny and talented, and as the Indigenous Affairs Advisor to The Hon Jenny Macklin MP, one of the key figures behind former Prime Minister Kevin Rudd's landmark apology to indigenous Australians.
So I got a bird's eye of the political scene. I even got to play Macklin's piano and remember her remarking to her husband about how nice it was to listen to my playing. I'd improvised some jazz, probably something loose like this recent production:
Moving to Canberra would eventually be good for my career. But at the time, working as a general Legislation Editor seemed like a step down from my role as a Quality Assurance Analyst at LexisNexis that I had attained after three years at the company. While at the Attorney-General's Department I executed my duties methodically and efficiently. But the work was not mentally taxing. The Department kindly approved my request to go four days a week. So on Friday I took jazz piano lessons with Paul Dal Broi.
For the next two years I studied piano full time. On top of my 45 minute lesson I practised about 3 hours a day, listened to classical and jazz music for about two hours a day, and jammed in a jazz band once a week.
My first time in a band. I'd put an ad in a musicians' classifieds and received a response from bass-player and prolific jazz journalist and chronicler of the Canberra music scene, Eric Pozza. If ever luck had come, this was it.
Our first practise was at our drummer's house. Brenton Holmes sadly passed away recently. I and many others will never forget him.
Paul had prepared me well for my first real jazz jam with serious musicians who know their instrument. It was thrilling to play Brenton's grand piano with Eric plucking away on electric bass and Brenton's sharp snares and cymbals accenting my phrasing.
I played well that night. Trio Toucani was soon joined by John Baczyński on sax for two solid years of gigging, with a couple of trips to Moruya for the jazz festival.
More than ten years has passed. My communications career has stalled as the world fights the plague. For the first half of 2020 I studied Mandarin. Thirty hours a week for six months lifted my level to the point where I can converse over a coffee or beer, watch Chinese TV with Chinese subtitles and overhear conversations on the street (not something I do deliberately).
One thing I have never applied myself full-time to is composition. I only write when I'm inspired or when someone asks me to write something.
As of July 2020 I had 13 tracks on my YouTube channel, Prasadium. I published my first in 2012. Not the most ground-breaking production rate. The last two years included a couple of burst periods where I wrote several compositions in a month.
Now, for the first time in my life, I'm in the position to devote a full six months to composition. I'll average 7 hours a day, 5 days a week, and see what I can come up with.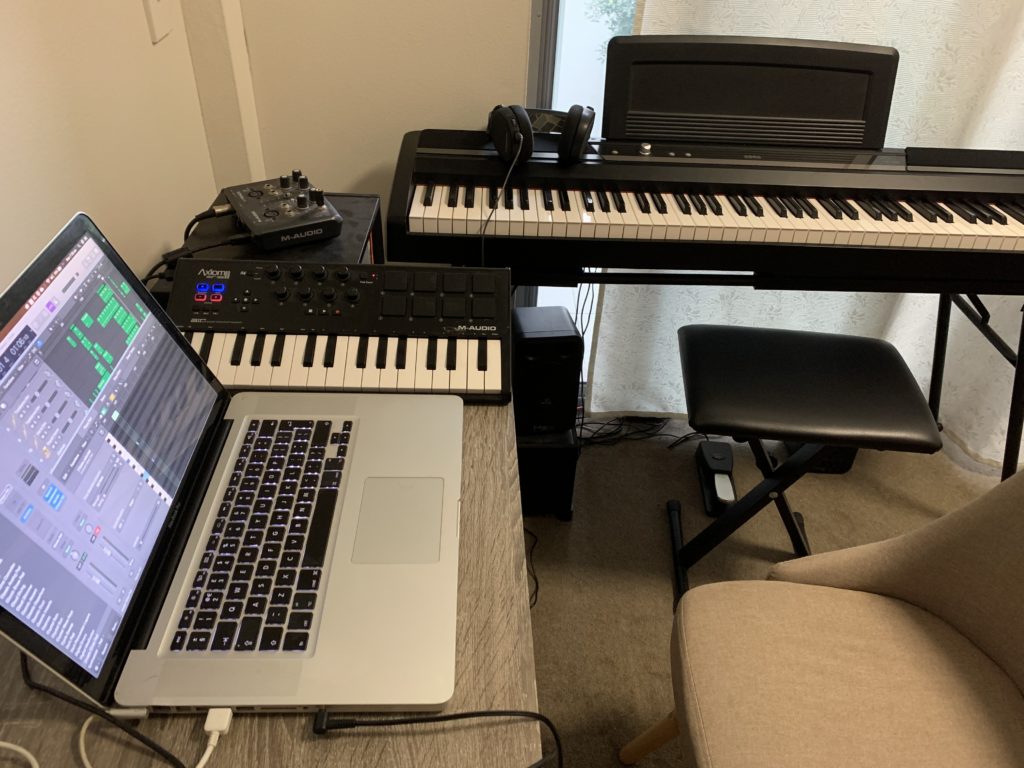 No pressure is to be applied to self. Sleep is recommended. Occasional meditation, yoga and stretching is desired. Good posture at keyboard and computer should be maintained. Doing other stuff like talking to human beings is essential.
If I can produce one composition a week I should be able to double my output and level up from aspiring musician to accomplished amateur.
This recent effort may serve as a minimum standard benchmark:
Sweet Torch of my Youth is a short lyrical poem for piano and orchestra, illustrated by Guido Gautsch's evocative shot of a Port Melbourne pier. Immediately after improvising the piano part I suspected I had played something worth rehearing, maybe orchestrating.
Nothing I ever write is perfect. This will probably always be the case. For example, Sweet Torch of My Youth has a couple of redundant notes played by the flute in the coda. I'll revise everything when I compile my piano works into an album –
… another project that is gnawing away at the right side of my brain.