With the world shutting down as we navigate a viral menace on a scale not scene for generations, writing is still the go-to way to unveil our deep anxieties and inner struggles. For Charlene Cat, a young lawyer from Foshan (Guangdong), now living in Sydney, what should be a routine evening is now a mission.
20.03.25, Wednesday, Rainy, at Office 9:44 PM #charlenesdiary
Today was my third day working from home. My bedroom is my castle. It has everything. I thought I would stay in my room, not going downstairs from Monday. Despite the crazy news, the view outside my balcony glass door was still pretty and peaceful. 
A sudden flickering on my laptop screen had interrupted me out of my paradise, forcing me out of the castle to get a replacement computer as soon as possible before everything seriously closed. There are so many Australians lining outside Centrelink . I can't become one of them. Centrelink does not cover me. I need to cover myself, though I am not in a worse situation.
Living in the city now has its benefits: walking distance to everything, if you want to get a new computer all of a sudden, or if your supervisor texts you asking you to come back to the office. It's also close to the courts, but now I needed to get my computer sorted, and be at the office.
I'd ventured downstairs from my paradise bedroom three times today, out to the world with the virus in the air. I guess at this point of time, nothing other than work-related tasks will make me leave the building. 
As I walked towards the evening air, meal deliverymen queued in the lobby. The Microsoft shop was closed. The bright light inside glared at me mockingly, penetrating into the night.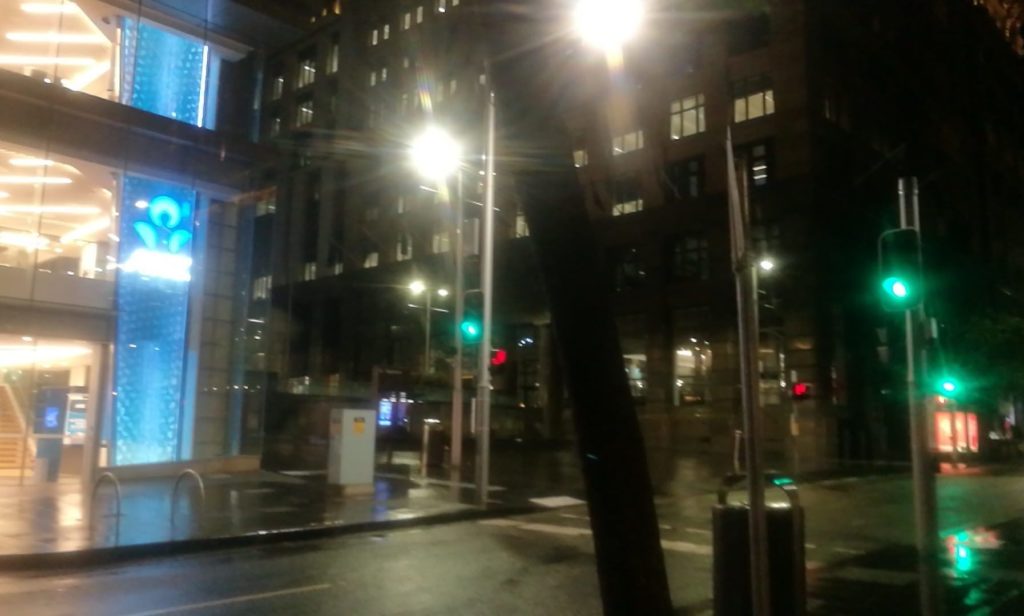 I hurried on towards my office. For some reason I was reminded of the routine of my time in law school: studying in the law building, going home for lunch, then back to my seat. A typical law student's weekend.
This wasn't a typical night for me, and I saw the city of Sydney from a different perspective.
At a dine-in Japanese restaurant which I passed by every day, the chef was asking if the teriyaki chicken was ready to be delivered. Most homeless people were gone because of the rain, but an  elderly man with his mice was still there as normal.
My office was empty apart from my supervisor. She said she felt much better just sitting there working quietly. I could tell she was stressed and scared knowing that someone she knew got a letter from a doctor saying he was affected by coronavirus.
Shops are still open, not all of them are essential, but people need to work. Like me, risking their life or health in the middle of a pandemic.
I don't have masks, and I really want one.