Omar Sy stars as Assane Diop, son of African immigrant Babakar, who is betrayed by an influential businessman. Babakar Diop (Fargasse Asandé), accused of theft, is imprisoned and ends his life in a cell, unable to live through the loss of face. But not before he introduces Assane to Maurice Leblanc, creator of the Arsene Lupin series of detective stories – France's answer to Sherlock Holmes.
Leblanc published between 1905 and 1939 while Sir Arthur Conan Doyle's drug-addled anorexic prowls London between 1887 and 1927. Conan Doyle refused to let Leblanc use the Holmes character as a cameo in the Lupin novels. Unfazed, Leblanc introduced a character called Herlock Sholmes!
There are now no restrictions on the use of either writers' characters. As a result we have had many Sherlock Holmes movies produced, and Lupin inserts itself as one of the most stylish detective series in recent times.
Babakar Diop migrated to Paris from Senegal, hoping to build life for himself and his son. Despite being loyal, his employer, the magnate Henri Pellegrini, accuses him of stealing a family heirloom. Pellegrini seems to have had a grudge against Diop senior. Perhaps he resented his uprightness; maybe he saw the potential attraction between Babakar's son and his daughter Juliette (Clotilde Hesme). Maybe he's just a regular arsehole who likes lording it over others.
To ensure Assane gets over his father's downfall, a 'mysterious benefactor' sends him to a decent school. Here he meets Benjamin Ferel (Adrian Valli De Villebonne), who becomes his lifelong friend and support (Antoine Gouy).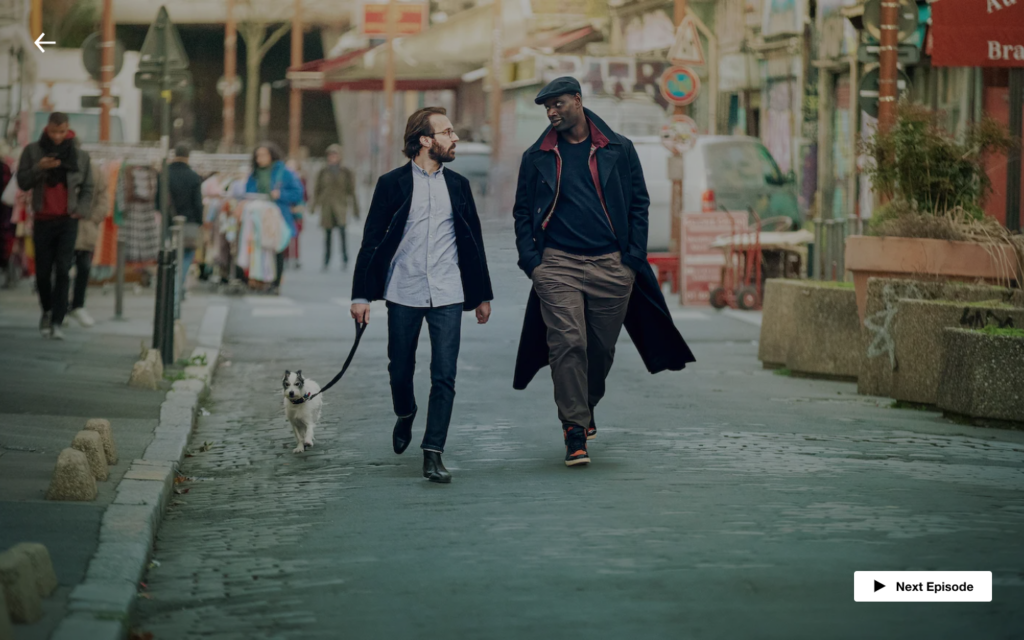 As Assane enters the turbulent teenage years, so come thoughts of rebellion. What I like about French TV and film are the less self-conscious portrayals of interracial romance. An African-American literally has to be a superhero to get a kiss. Alright, I'll admit Omar Sy plays a pretty cool character, reminiscent of Idris Elba's jaded cop in Luther (UK). These positive portrayals help every ethnic man in the West, where getting a date is fraught with overcoming all manner of taboos, a problem that the exoticised ethnic woman does not seem to have. Tellingly, while living in London, I did find French women more open to dating me, a South Asian male. France's secular culture has fostered a more open-minded, strong-willed modern woman. All the more reason to curse Brexit.
Digression aside, young Assane (played by Mamadou Haidara) falls in love with attractive blonde Claire (Ludmilla Makowski) at school, becoming his childhood sweetheart and mother of his child Raoul (Etan Simon). I'll call out IMDB here for not crediting on the Lupin homepage actress Ludmilla Makowksi, for she gives a thoughtful portrayal of an open-minded teenage girl as she falls for Assane. Instead, IMDB credits the English dub actress Lindsay Siem!
Having been to France, I can vouch that female beauty is not the exception, it's the rule. Why? Is it diet, wine, smoking? Darn you covid virus, I want to go back to France, now! À présent, I'll have to be satisfied progressing my French for when the time comes.
But Assane Diop is not satisfied, despite an education, a beautiful partner and a sweet kid. He suspects his benefactor may be linked to Pellegrini, his father's Machiavellian employer. Hervé Pierre plays the malevolent businessman with menacing aplomb, giving the character a hateful presence that reminds me of the volatile Gerard Depardieu.
The series opens in, of all places, the Louvre. With the auction of a diamond necklace, Assane sees an opportunity to pay back his creditors while involving them in the heist. Whether any destruction to the actual Louvre Museum occurs in this scene remains secret knowledge of Creator George Kay and Director Marcela Said.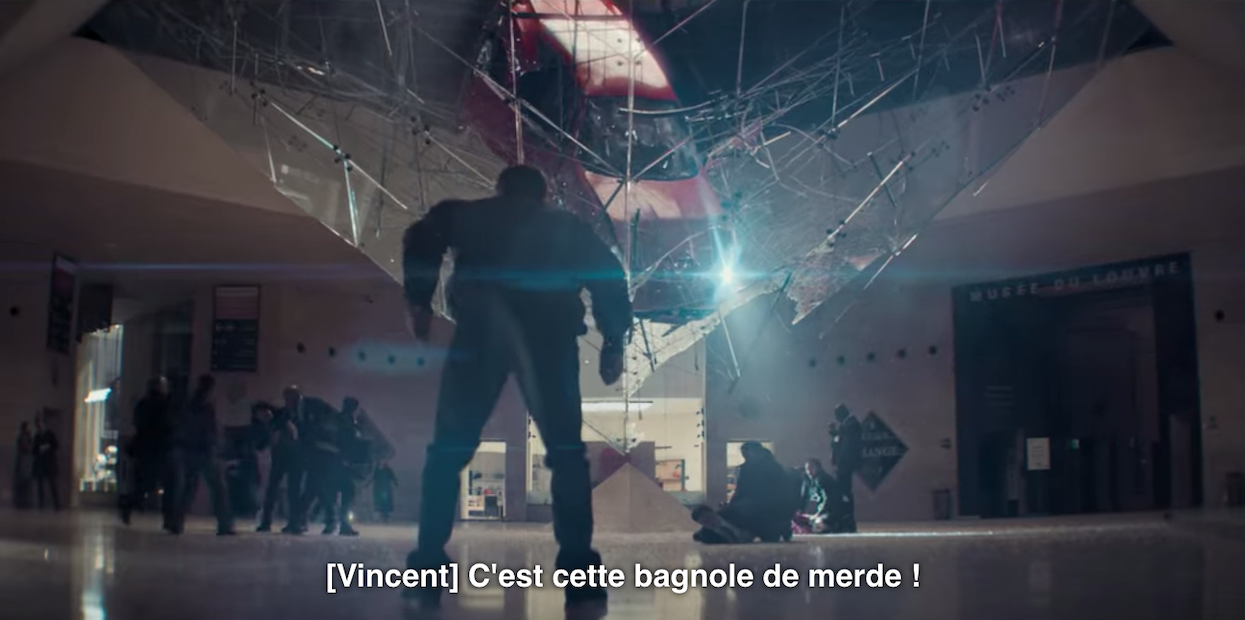 Excitement, suspense and tight dialogue remain a feature of the five episodes of Part 1. Much contemporary TV involves superheroes saving the world, which has become passé. Relentless action and gunfights are no longer my cup of tea, if they ever were.
You can't beat Paris and rural France for ideal backdrops. Having visited several times, the cinematography makes me want to go back toute de suite. It's a magical city with no need for Disneyland. It is Disneyland: architecture, art, sophistication and bars that double as cafés. Or tobacconists that double as bars. What more could a deprived Australian governed by Victorian era politicians want?
Sweeping helicopter shots make me recall Paris with longing. I miss the cool cafés/bars/tobacconists…and the sophistication of the Parisians – as long as you know French or make an attempt. The French are no more snobbish than the English. It's not that they don't want to speak English – they find it a hard language. Mind you, they don't do themselves any favours by dubbing all foreign shows into their native language. Sounds familiar?
I've found French hard too, despite learning for twenty-odd years. I read fluently, make myself reasonably understood, but find comprehension, with the elisions and nasal tones, très difficile. So thank you Netflix for the French subtitles. I keep the WordReference dictionary open on my mobile to check any uncertain vocab. There's no better way to polish a language than by immersion.
But immerse yourself in the sets: the Musée D'Orsay, Les Catacombs and the winding River Seine also feature. Lupin exploits the beauty of Paris to the full, whether it's running from assailants, romance on a bridge or a car chase in the country side.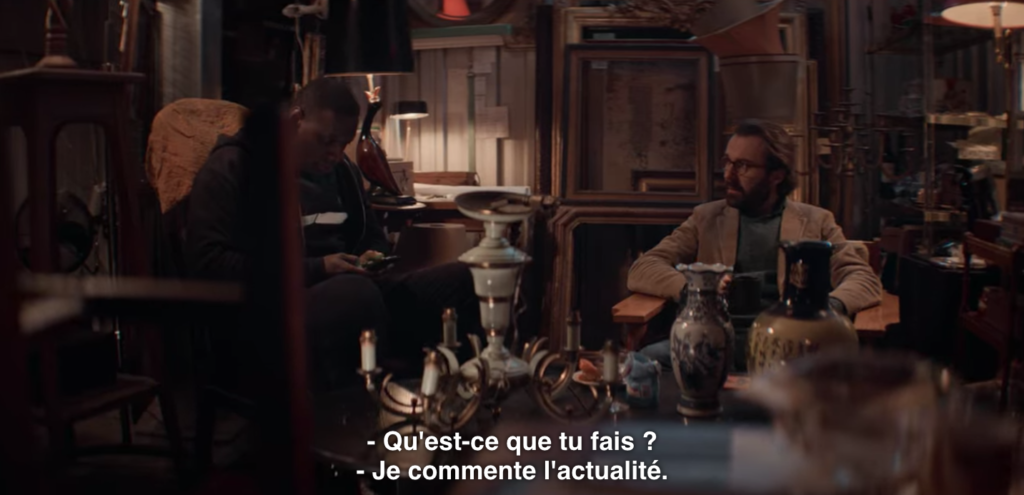 Be sure also to cast your eye at the interior decorating. Assane is Le Roi d'Evasion (King of Evasion). As each hideout gets discovered, Diop must decamp and set up a new base. Somehow he manages to quickly furnish them with all manner of antiques. If I can stop moving and settle somewhere, my place will look like his. But he's always on the move, so maybe it's not as hard as it looks. Just prepare to leave everything at short notice!
Everyone in this series is supercool. Diop's hate-filled nemesis Léonard (Adama Niane), gets close on a number of occasions to ensnaring his rival, but be it in car, on train or abandoned manor house, Assane slips through his fingers. Good cop Youssef Guedira (Soufiane Guerrab) is torn between helping the fugitive or helping his colleagues, including Lieutenant Sofia Belkacem (Shirine Boutella), who is after the glory of snaring Diop, no matter how obvious it seems he's been setup.
Final Verdict: 8.5
The critics enjoyed Lupin, as have English-speaking audiences. It has been one of Netflix's most successful shows in a world that is increasingly opening itself to 'foreign film'. If you must be a philistine, you can watch anything dubbed into your language. Personally I don't get this. I'd rather read subs, even if the show is in some Slavic dialect…Especially if the show is in some Slavic dialect! Being a Francophile, I soaked up every minute of Lupin. Occasionally the plot stretches credulity, but the charm of Omar Sy as Assane Diop carries you along for the ride, as does luscious Paris en général. Apparently a third season is in the works.