The outbreak of the coronavirus has focused the world's attention on China. Much of the Western media have been well-behaved and have avoided politicising the situation. Not all. Sinophobia is making a comeback, aided and abetted by the usual suspects on the fringes of the political spectrum.
I have fond memories of my trip to China a year ago and here I share them to hopefully show everyone we are all human, everywhere people are living their lives, and some of us are lucky enough to travel and discover different perspectives.
How did I end up in going to Hangzhou? While walking through Haymarket in search of my morning coffee fix I bumped into a friend I hadn't seen in fifteen years. Dave was having an egg and bacon roll in a pavement café. We got chatting again, almost like we'd never parted.
He was on his way to the Chinese visa office to sort out a trip to Hangzhou. This city of 8 million is known for its beautiful West Lake and its wetlands and cultural reserves a short hop out of the city. It is also a hub for traditional Chinese medicine. Dave was going to Hangzhou for nine months with his wife and child to complete his certification in Chinese medicine or 中医 (Zhōngyī).
Dave, like me, also grew up in a Sydney suffused with its Chinese culture which gradually operated on our subconscious. I had been half-planning a trip to China and now I had a reason to go. I assured Dave I would I see him while he was there and turned this into reality.
I arrived in Hangzhou to find Dave living in a roomy three-bedroom apartment in Guihua, Xihu District. The apartment block was part of a gated community covering several acres. It had its own post office, a couple of little shops, and its own playgrounds and communal areas for activities like dancing and table tennis. In other parts of Hangzhou residents live in skyscrapers.
Near the entrance to our building a noticeboard listed residents on the Body Corporate Committee. Most doorways had some sort of decoration – Chinese idioms, dragons, a household god.
Some residents owned sports cars, including one Western guy who drove a Porsche. We had a gatekeeper at each of the two entry points. He usually welcomed me with a nod and a smile as I scanned my tag and went through the gate.
As soon as you exit the tranquillity of the complex watch out for stray scooters. Many of the city's residents ride electric bikes. There are dedicated bike lanes everywhere. And every rider has a destination. At some point they have to exit the bike lane and mount the footpath. This is where your alertness comes in. Also, there is always someone who for whatever reason is cruising against the traffic up the wrong lane. So look both ways!
I haven't ridden a bike in ages, let alone a motorised one. But Hangzhou, Shanghai and Nanjing show how modern mega-cities can be cycle friendly, reducing the harm to our planet.
Of course, China needs to find ways to cut its reliance on coal, which we have been happy to sell them. But China's per capita emissions are lower than ours. And its focus on renewable tech such as electric vehicles and solar energy means they are positioning themselves to adapt to the climate issue, and we may find ourselves left behind.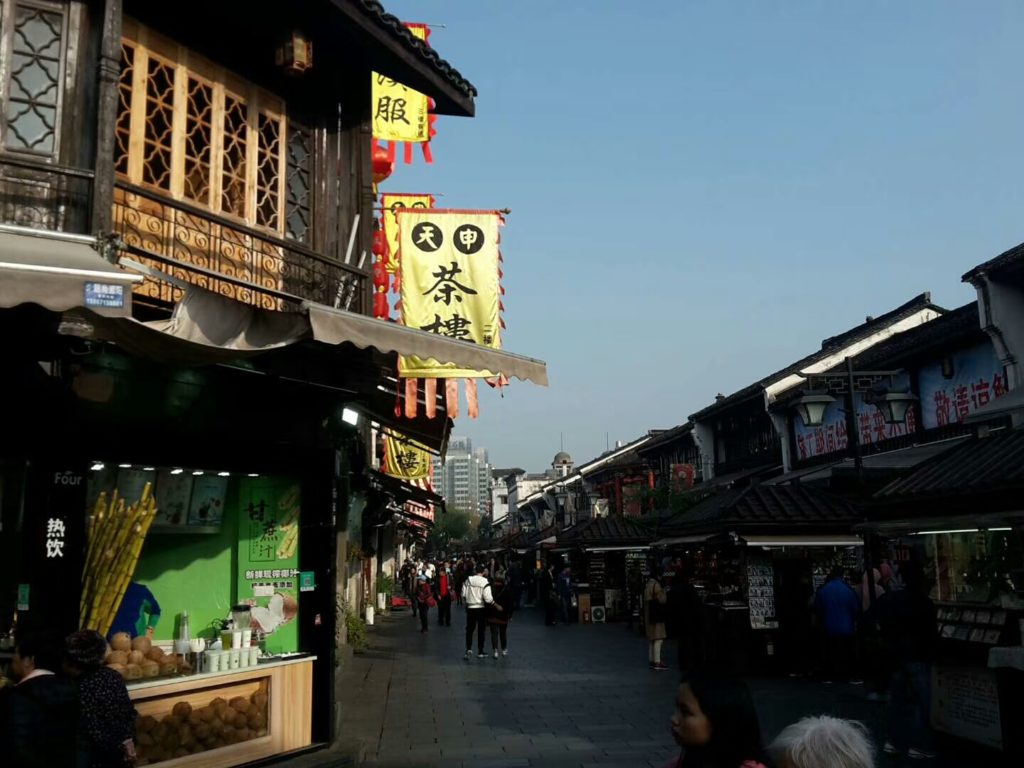 上有天堂,下有苏杭
(Shàng yǒu tiāntáng, xià yǒu Sū-Háng) "Above is Paradise, below are Suzhou and Hangzhou." Marco Polo agreed, saying that of all the world's places Hangzhou was "the most beautiful and magnificent."
One of the first sites we visited was the famous West Lake and Leifeng Pagoda. This scenic area is known for the Legend of the White Snake, the mystical Chinese myth about a doctor who falls for a demon snake disguised as a human.
We walked alongside the West Lake as the sun set. Leifeng Pagoda was lit up like a giant lantern, its lights shimmering on the lake's surface. After walking along the boulevard, we dropped into a bar for a couple of cocktails.
A group of well-dressed and glamourous youths were ballroom dancing. One guy was dancing with five girls, probably having more fun than I've had in my life. A jazz quartet was setting up, getting ready to send the party well into the night.
Hello Shanghai
Dave had to go to Shanghai to pick up some tailor-made shoes. Shanghai is only 175km away, the bullet train taking a little over an hour. In between stops the train reaches well over 300km/h.
I love train trips and gazed out the window, watching the towns sweep by with all their human beings. We'd stocked up on vacuum sealed snacks, and ate a variety of dried pork, dried fish, fruit and nut munchies.
After checking into our hotel, we walked along bustling Nanjing Road with its malls and fashion stores. Twice we were approached, once by a man, once by a woman, asking if we would like some female company. We politely replied 不要. Another man approached us saying we'd made a good decision, as those women were 很丑.
Like Hong Kong, Shanghai has a spectacular evening light show which we viewed from the Bund. People poured down Jiujiang Road to the boardwalks alongside the Huangpu River. Each skyscraper tries to outdo its neighbour in light design, some going so far as to have digital animated displays across several storeys.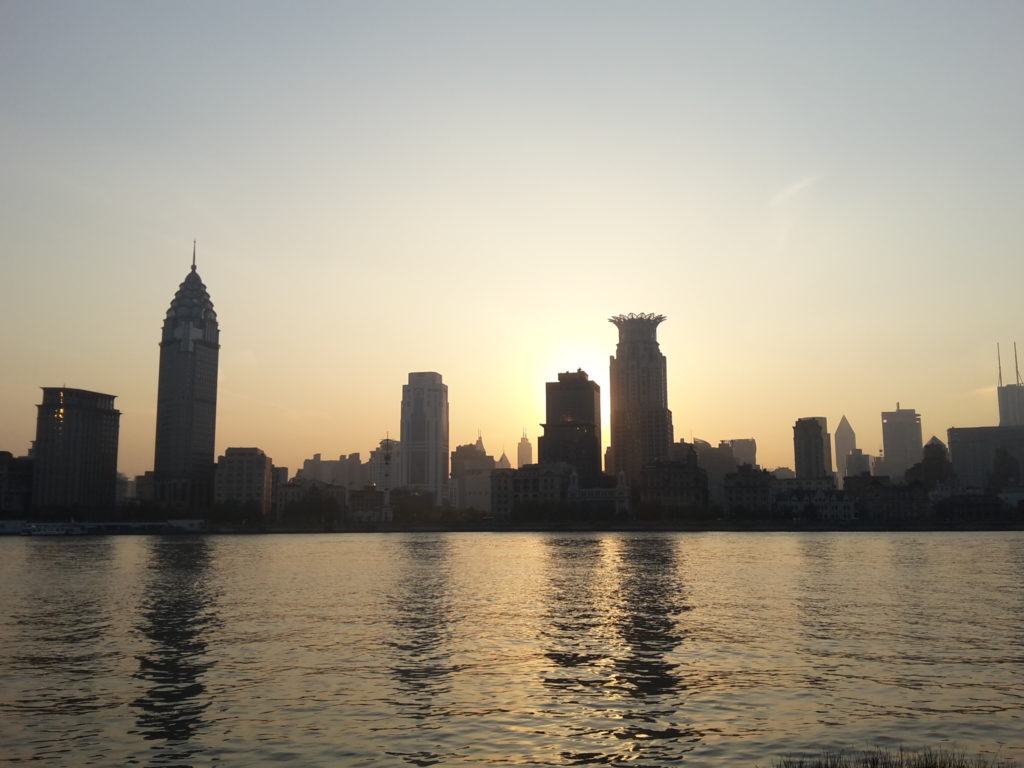 Dinner was a feast. We treated ourselves, spending over $100 each at Lost Heaven, a Yunnan-style restaurant. Their website takes a long time to load, but their food arrived in a timely fashion. Yunnan is located in China's South West, sharing borders with Vietnam, Laos and Myanmar. It is only 1,000 kilometres from Bangladesh, and Lost Heaven's mouth-watering samosas hint of Indian spices.
The next day Dave did his shoe business, then we did the tourist thing: ascend Shanghai Tower, tallest building in China and second tallest in the world. Completed in 2015, Shanghai Tower boasts 128 floors and touches the sky at 632 metres.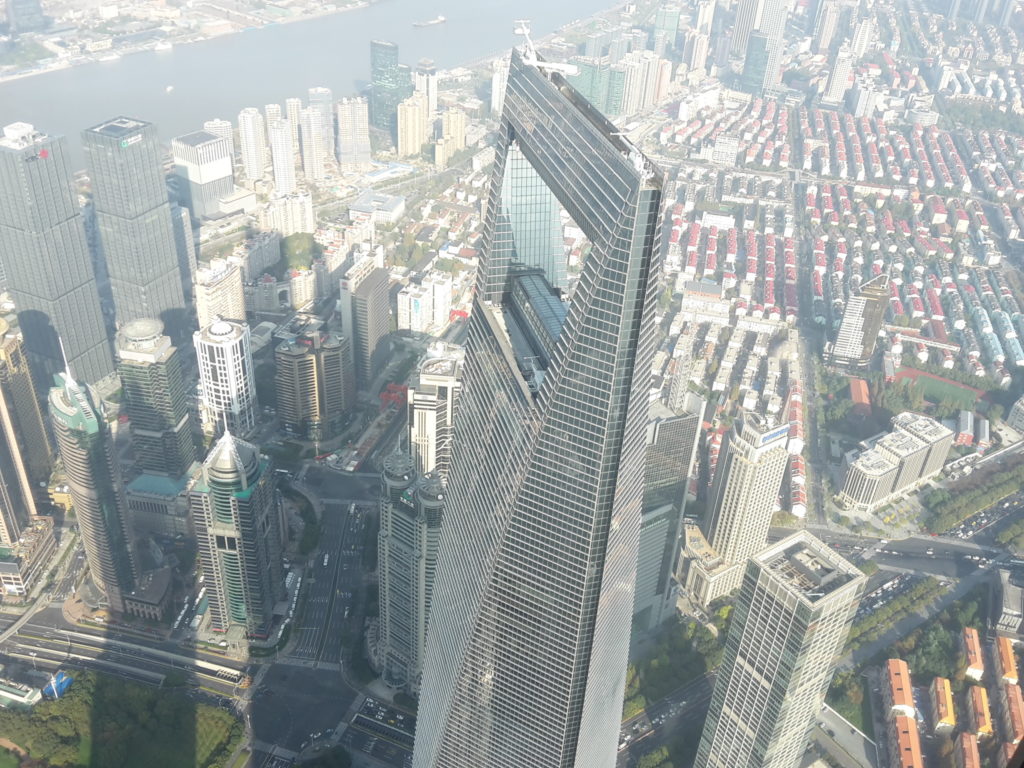 Another must see is the Shanghai Propaganda Poster Art Centre. This museum gives a good overview of 20thcentury Chinese history, with nationalist depictions of solidarity and class struggle alongside relations with other countries portrayed as ally, enemy, benefactor or friend in need.
Dave had some important studies to complete when we got back to Hangzhou. So I booked a ticket to Nanjing, almost 250km away, or a 90 minute train ride.
I stayed at Jinling Hotel, reputedly Nanjing's first five-star hotel and once its tallest building. From my window I saw the bustling life of Xinjiekou Square unfolding below. Nanjing was much smoggier than Shanghai or Hangzhou. I barely saw blue sky the four days I was there. But something captivates me about this city. It's modern, technological and (to me) looks very liveable.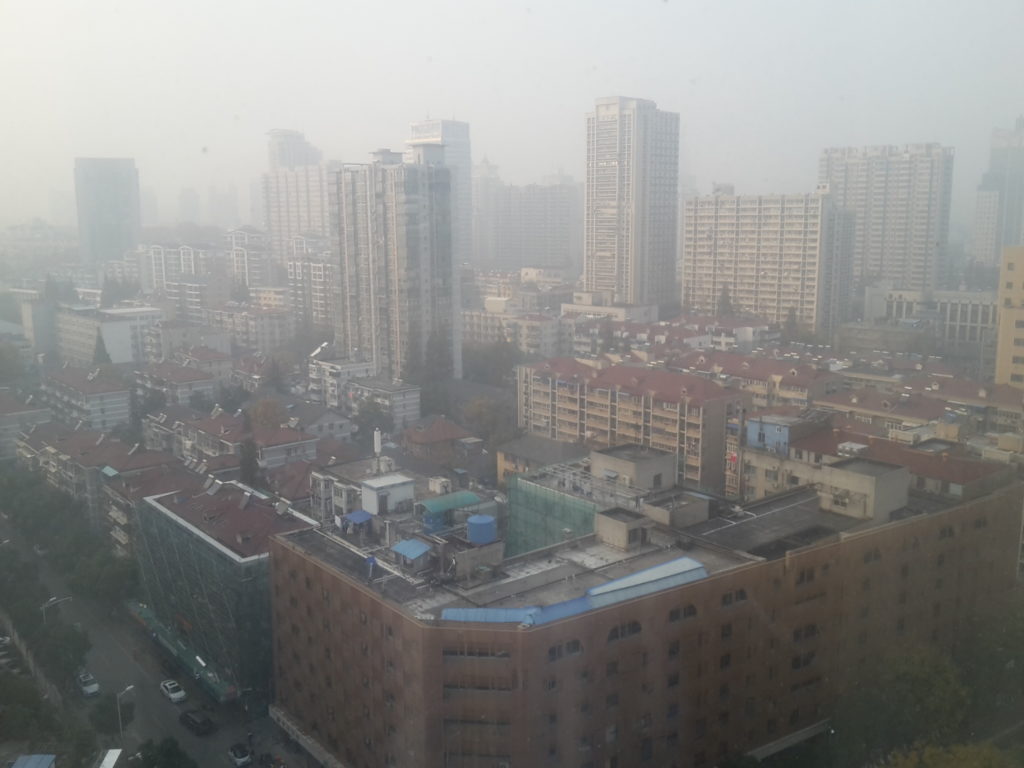 The Memorial of the Nanjing Massacre wasn't open when I arrived. A sign outside the gate stated it was closed for renovations. Many locals who turned up also had to content themselves with viewing some of the sculptures through the gates. So I went for a wander through urban Nanjing and got a meal.
I returned to the hotel to the sound of light piano music coming from the mezzanine. I ascended the stairs to find a beautiful woman playing the piano. She was about 30, wearing a long black dress. Every few minutes she would stop halfway through a song and just sit in silence staring at the sheet music.
I ordered a cocktail, sat down and listened, probably making her a little uncomfortable. So I approached, saying in incorrect Mandarin, 我也打钢琴(Wǒ yě dǎ gāngqín), which is not: "I also play piano". Because I'd used 打 (dǎ), which literally means to hit, but is used in other contexts too, just like in English.
You can use 打 for tennis, making a phone call or having a doze. But not for piano. You can't 打 the piano. Although I often do. In Chinese you do the untranslatable 弹 to the piano. You tease it, flick it, caress it. So I should have said 我也弹钢琴 (Wǒ yě tán gāngqín). 爵士钢琴, to be precise.
The lady complimented me on my Mandarin. To my great surprise she seemed fluent in English. She had been to Tasmania for a two-week holiday. There are very few English speakers in China, yet she picked it up as a hobby. If you are dedicated enough you can actually learn another language without living in the country. I know a Thai girl who became fluent in English by watching American TV. She had an American accent.
Another fixture of Jinling Hotel was the rubbish bin. Actually, it wasn't a fixture because it went wandering about. It was a garbage droid that wandered from floor to floor, occasionally heading back to its recharge-station. I don't know how it operated the lifts, but it gave guests a delightful surprise when exiting.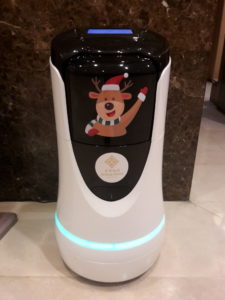 This raises the ethical question. If garbage droids become widespread will we treat them with respect? If they are no longer a novelty but exist to collect our rubbish might we not look down upon them and, on a bad day, abuse them?
I also didn't get into the Sun Yat Sen Mausoleum. I arrived only to discover tickets were booked out two days in advance. After trekking halfway up Zĭjīn Shān (紫金山 Purple-Gold Mountain)  I was pretty tired. I was even more annoyed to find there wasn't much mobile-internet reception. Eventually a page loaded revealing the mausoleum to be surrounded by other fine attractions.
At the foot of Purple Mountain lies the Míng Xiào Líng (明孝陵), Tomb of the Hongwu Emperor. I trekked another couple of kilometres on a forest path to be rewarded with the sight of the imposing tomb.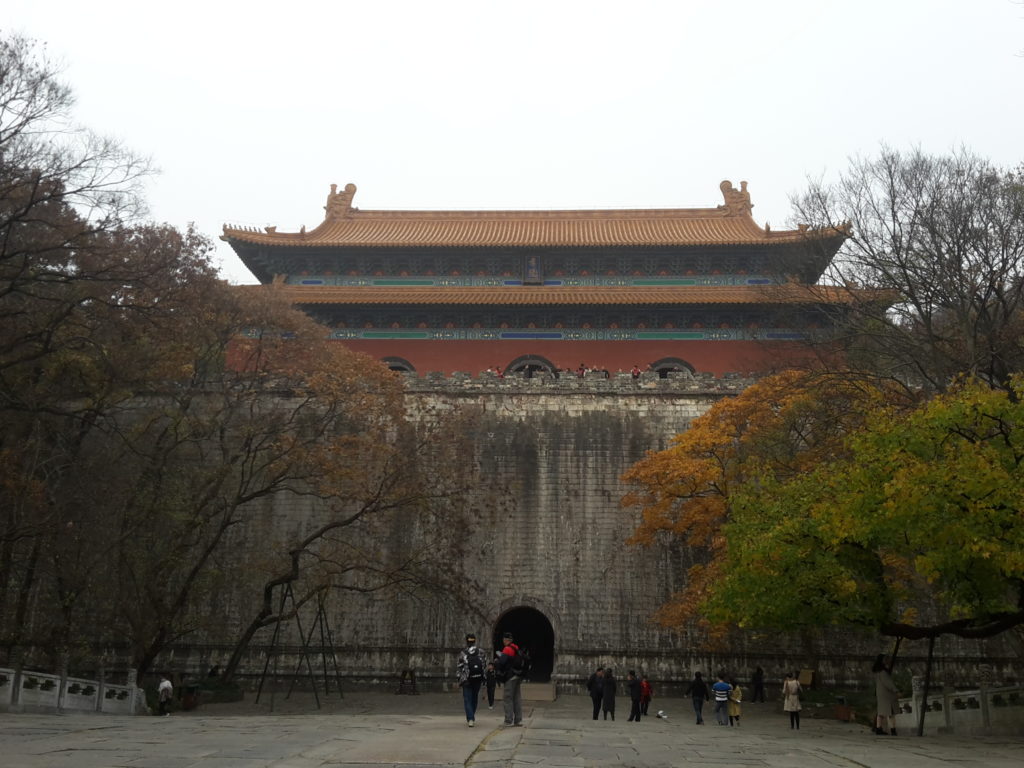 A further kilometre or so downhill brought me back to the train station, my spirits lifting when a KFC sign peeked through the trees.
When I boarded the train back to Hangzhou the next day, someone was sitting in my seat. I knew enough Mandarin to claim my seat and he relocated somewhere near the back of first class. The tea lady certainly didn't care as she moved through the carriages, saying in a very cutesy voice, chá (茶).
I had a few days remaining in Hangzhou. Enough time to visit the Museum of Traditional Chinese Medicine. The exhibits are exquisitely laid out displaying many unusual specimens. A lot of these are now unattainable due to government regulation outlawing the use of endangered animal body parts. At the end of your self-guided tour have a rest in the garden – it is one of the most peaceful abodes I'd ever had the good fortune to meditate in.
Although I like meditating, some of my fondest memories from this trip are of the local bar five minutes from our flat. Most communication was via translator apps on our phones, but this didn't stop the bartenders and regulars from being warm and welcoming. I still get their updates on WeChat, and it makes me keen to go back.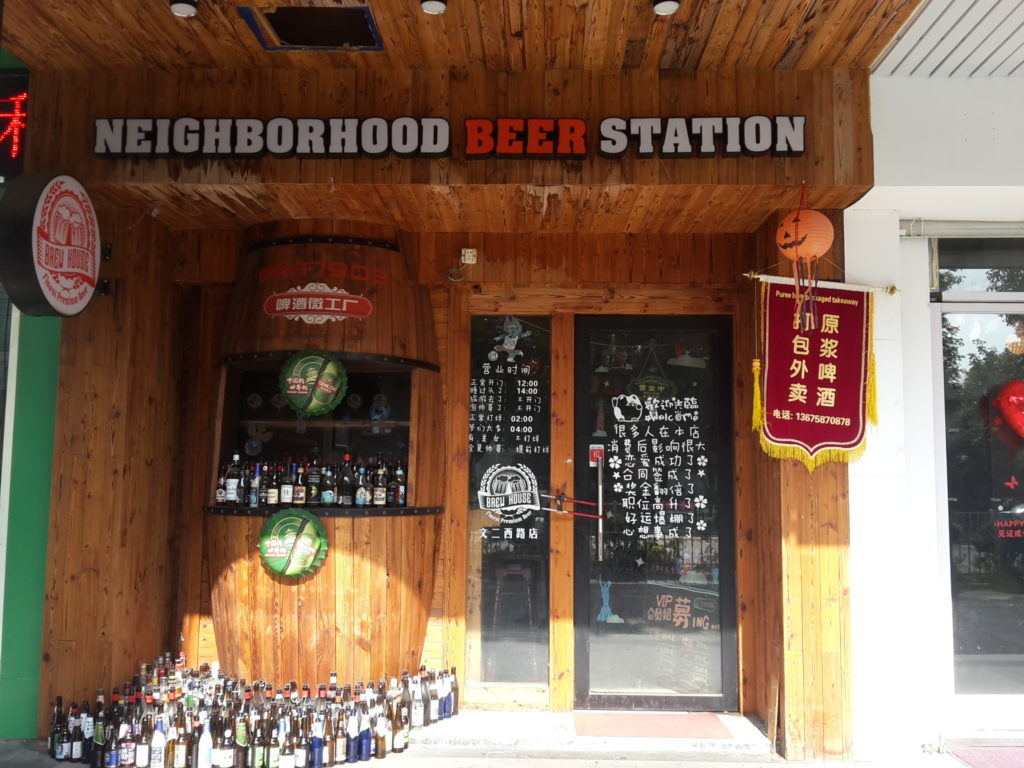 Before I left, the bartender told me, "Next time you're here, you'll be fluent won't you." I'm working very hard at this. I'm a couple of years away from fluency, but I'm much better than a year ago and eager to test again my Mandarin in this vast and diverse nation. So hopefully in six months the coronavirus will be contained, and I will be able to visit the other city in the famous saying, "Above is Paradise, below is Suzhou and Hangzhou."