I didn't really know London until I'd been there about 2 years, just when I started getting homesick for sunny Sydney. The excitement of being in the big smoke was starting to wear off, the daily commute was becoming a grind. Despite world-class public transport, getting to work sometimes involves multiple changes. Each interchange means queuing and wading through a wave of people.
During my final year I landed an internal comms role at one of the major banks. This was an hour's commute, despite being 8 miles as the crow flies. First I took the bus to Finsbury Park Station. Then I rode one stop to Highbury and Islington to change from Underground to Overground. Next, the Overground to Canada Water, then change once again to ride the tube back under the Thames to Canary Wharf.
I could shave off seven minutes by staying on the Underground. One less change, but 45 straight minutes on the rattling tube, back bent, arm twisted, head tucked in who knows where .. this could not be done every day. The Overground was quieter and with a guaranteed a seat.
Occasionally I got off the OG at Shadwell and took the light rail. No seat on this variation and it took you through one of the drabber parts of London. Close to the city lie the inner docklands. Convenient brown brick apartments, with grey for variation. Some people like this architectural style. It's quintessentially English. Especially under London's dark, wintery sky. One way to describe this lifestyle: "it's gritty init."
Yes there's something about the darkness, the cloistered streets, the hidden pathways, the constant drizzle, that's gritty. And made me stay a further two and half years.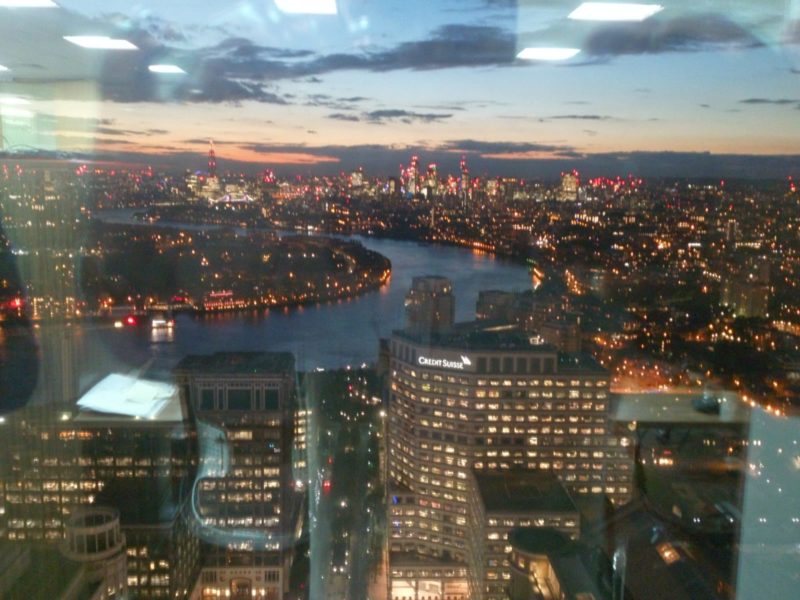 When I finally did get to Canary Wharf I had prime seating on the upper floors of 1 Canada Square, tallest building on the wharf. Yep, the one with a pyramid on top and flashing light. I could see over the Thames, towards Tower Bridge. I could pretty much see the whole of London. People came to our desks not to visit us, but to admire the view! A surge of energy flew through my hands as I logged on each morning, living the Canary Wharf dream.
You don't move to London for open spaces, sun, or sea-change. The UK has the smallest living spaces in Europe. Everyone slums it. No shame. Even the exclusive residents of Kensington and Chelsea don't quite have it as good – in terms of dwelling standards – as the inner west of Sydney or inner north of Melbourne. I spent my first 18 months in Chelsea, courtesy of a family friend, in a charming cottage terrace right near Stamford Bridge. I could walk to the museum precinct, and would take my laptop to the cafe in the Science Museum to hunt for jobs.
Being Sydney-born and bred (or, should I say, Sydney-adopted and bred!) I was habituated to the high standard of living that is Australian life. You are only half aware of this until you travel and work overseas. But as I will attest from my travels, a high living standard does not equate to a stimulating or authentic lived experience.
Standards of living
What might pass as boarding-house accommodation in Sydney are regular flats in London. I came across some real howlers. I inspected a studio in Earl's Court where the room was spacious enough. The toilet was shared but you got your own 'shower'.
When we think of a shower we think of someone singing, joyfully rubbing a bar of soap under a sprinkling fountain, splashing suds on chest, sticking elbows out to whatever they're whistling. I've taken the singing analogy too far. I don't do any of this. But in this Earl's Court shower you weren't able to turn around. It was a cryogenic capsule. You backed in, then closed a plastic screen around you. I don't know how you cleaned yourself. There wasn't enough room to move. Maybe you applied the soap before you entered.
In Notting Hill I saw a studio that was so silly even the property agent was embarrassed: "I don't know why we've got this on our books". I'm not sure it was fit for human habitation. The stove was under the bed! The bed was a bunk attached to the wall. Below it was the stove. I guess boiling a pot of water would be a good way to warm the mattress. Add a few drops of lavender oil and sweet dreams. Or cook a vindaloo and dream of Brick Lane!
This wasn't the only place where you could make breakfast in bed. There's a studio in Crouch Hill where you don't have to get up to fry the bacon. You could kick last night's stir fry off the stove if you weren't careful. (Personal note: I don't leave cooked food on the stove, but just imagine, there are people in the world who do.)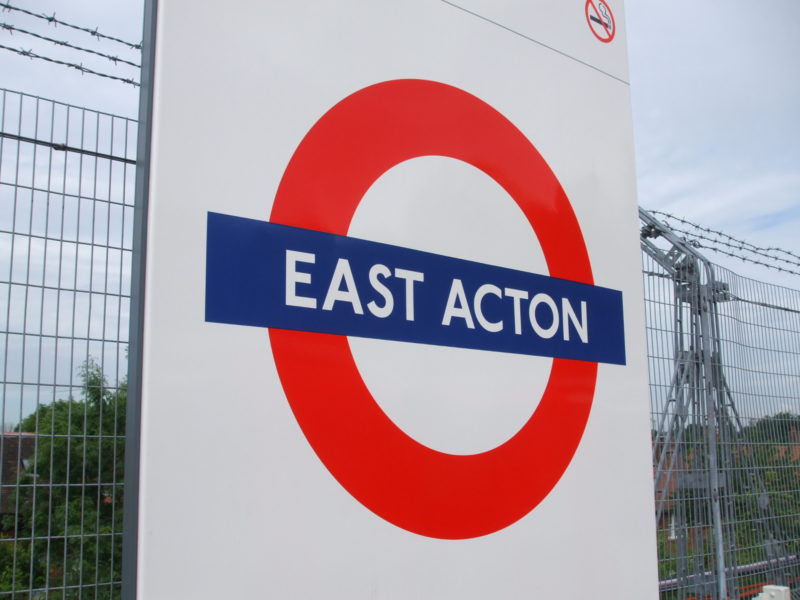 I inspected the place in Crouch Hill after living six months in East Acton. I should probably rephrase that. I saw the place in Crouch Hill after surviving six months in East Acton. I'm not sure East Acton is known for anything other than being east of Acton Central. Maybe I'm a little harsh on East Acton. I did live in a mouse-ridden place at the end of a cul de sac that also served as a dumping ground. Not all of East Acton is like this. And there are plenty of chicken shops.
After viewing the shoebox in Crouch Hill I asked if the agent had anything else on his books. Maybe a few hundred quid extra will get me a little more living space.
Down the hill was Crouch End. Here I struck gold. This is one of the nicest places in London to live, with its coffee shops and boutique stores. It has a magnificent old clock tower at the crossroads. And only one fried chicken shop. KFC tried to open a store here but went out of business due to lack of custom.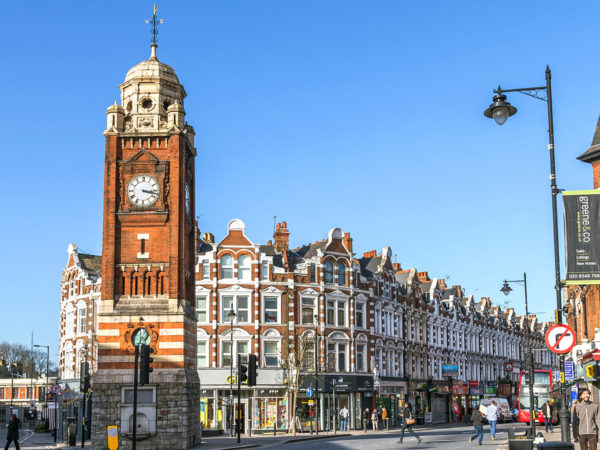 I stayed two and half years in Crouch End, the remainder of my stay in London, living above an empty shop. In the final six months this was occupied by a fish and chip shop. Living the Crouch End dream! There's also a Chinese restaurant downstairs for a good Sunday buffet. The odours weren't too distracting, and the flat was far enough back from the junction that I didn't hear the traffic. (I did occasionally hear the lone drone of mysterious source that others in many parts of the world report .. but that is for another post!)
Crouch End has two cinemas. Both are art house. Just that one was artier than the other. I saw Chaplin's The Great Dictator at the very arty cinema, and caught I, Daniel Blake at the regular arty cinema. There was also standup comedy at the uniquely named King's Head pub. If you don't want pub grub try the Bangladeshi, Indian, Italian, Japanese, French and fusion restaurants. And if you're bored of international cuisine get a bus two stops to Pizza GoGo, or walk it. I usually walked with pizza proudly under arm down Tottenham Lane. I lived in Crouch End for 125 weeks and must have had pizza once a week. That's more than 100 pizzas from Pizza GoGo, with the odd foray to Dominoes for variation. Food is not one of London's strong points. But Crouch End was pretty decent.
A lot of the more 'villagey' places in London are further from the tube. Crouch End is about equidistant from Archway, Finsbury Park and Highgate stations – about 30 minutes walk.
Writing this made me miss London a bit. For all its rough edges, pomposity and overcrowding, it has things going for it. The history and culture, cosmopolitan outlook, proximity to Europe and 'things happening' – this is a city I found myself progressively attached to.
I don't mind the constant cloud and drizzle. The low sun in winter is a little bleak – it never really rises, but that's like me some days. There's a famous quote by that Doctor of Letters, Samuel Johnson: "When a man is tired of London, he is tired of life." After almost five years I felt obliged to adjust the quote: "When a man is tired of London, he has come to his senses." But maybe it should read: "When one tires of London, he just needs a break."