I spent five years of my life in Canberra. It was here I really began my journey into jazz. Having taken jazz piano lessons with Paul Dal Broi, I advertised in the classifieds as a pianist and received a response from Eric Pozza who runs the Canberra Jazz blog. Eric plays bass and for a couple of years we were in a trio, with Brenton Holmes on drums. The trio later became a quartet with John Bazcinsky on tenor sax. We had some great times together.
Nothing beats comping a driving tenor sax while drums fly about and the bass propels us forward. That's jazz.
Eric is a prodigious blogger with an encyclopaedic knowledge of music. His blog fully documents the Canberra music scene of the last 15 years and beyond, with a focus on jazz. But Eric's ears are open and you will also find his thoughts on classical and electronica. This blog is a full chronicle of the development of Canberra's fresh talent and surpisingly fertile music scene, which includes such seasoned veterans as Wayne Kelly, Miro Bukovsky and Eric Ajaye. And I saw Herbie Hancock at the Canberra Theatre.
From time to time I contributed articles to the Canberra Jazz blog. On one of my weekend trips back to Sydney I had the pleasure of seeing Ornette Coleman at the Opera House. This was in 2008. Mr Coleman, master and trailblazer of free jazz,  passed on in 2015 and now plays for the gods. How lucky were my eyes to catch the reflected rays of light from this giant of modern music. How fortunate were my ears to have first hand experience of the air vibrations emitted from his horn of plenty.
I reproduce my article on Ornette below. It was simply titled, "Ornette".
With sadness I also mourn the passing of Brenton. Eric, I and John were lucky to have such a great drummer who was also a keen listener, always looking for the opportunity to emphatically enhance our riffs with a clean and timely high-hat or suspense building tom-roll. Great and humble guy too.
Ornette – 26 February, 2008
Not every Sunday evening do two massive cruise-ships, or floating hotels, embark and dock at Circular Quay. Nor is it every Sunday that Ornette Coleman plays at the Sydney Opera House.
As the ship spotters moved about the harbour foreshore, enjoying the sun, bands and … big ships … a segment of the crowd made its way to the Concert Hall to hear one of the remaining legends of jazz. Among the expectant concert-goers were drummer John Pochee, "Freebopper" Mark Simmons, saxophonist Matt Ottignon and pianist Alister Spence.
As an appetiser we were treated to the music of Mark Atkins. As Coleman has played with the Joujouka musicians of Africa and expressed an interest in touring the Northern Territory it was a pity Atkins and Coleman didn't play together.
Not a show-off by any means, Atkins' didgeridoo playing was evocative and summoned the spirit of the outback. One piece told of a showdown between emu and dog, depicting the dog's bark as it hunted the emu and the emu's laughter as it outwitted the dog. These sound effects were superimposed on long undulating drones.
Atkins also demonstrated that he can play a major third by changing his embouchure. Wind instruments are largely monophonic so to play polyphony (more than one note at a time) is no mean feat. John Coltrane could do this on his tenor sax. Atkins also called upon his days as a rhythm guitarist while accompanying himself on didj – this requires dexterity and concentration.
After a brief interval the doyen of progressive improvisation appeared. Ornette Coleman shuffled on stage in a dapper blue suit, without his trademark hat, and spoke softly into the microphone.
Any hints of feebleness were swiftly dashed as his band, which included two electric basses and one acoustic bass and son Denardo on drums, launched into a typical Coleman tune – flighty, ethereal, at times lyrical then percussive – which seemed to be over soon after it started.
Whether his compositions are short and packed with meaning, or whether I was simply lifted by the waves of sound and fell into a trance I cannot say. Coleman knows how to end a tune – the abrupt but very tight finishes were always unexpected. Whimsical, statement making, and entirely appropriate for jazz.
Unlike Coltrane's winding up and down modes to conclude a piece, Coleman's abrupt endings signify the duality between the musical world of ideas and the blanket of silence that envelopes and jerks the listener back to reality.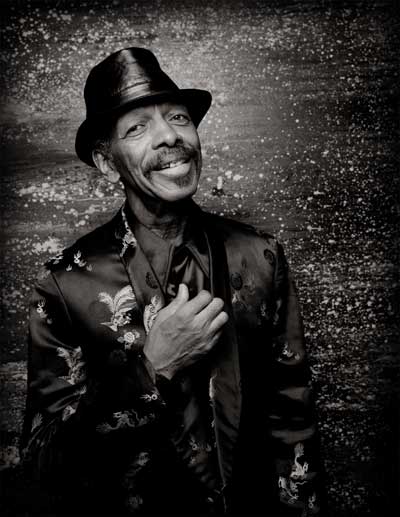 Coleman's melodic lines often floated around the perfect fifth and minor third, with suggestions of a pull back to a tonic. His inflections over the perfect fifth were lyrical and tapped raw emotion. The basses never sounded extraneous or busy. The acoustic bass was often bowed, while one electric bass played fast walking bass lines and the other was played almost like a guitar, achieving a soft, rounded and subtle sound. The counterpoint of three basses was exciting and full of momentum. Denardo's drumming was fast but not frenetic, and left plenty of room for statements from Coleman and the bass players.
Conventional jazz idioms, such as walking bass and swing were not overused. Denardo often played straight 8s on the ride cymbal and against this regular pattern would emerge Ornette's solos – within the frame, but not confined to the beat. It is hard to put your finger on his sense of swing. When he plays fast runs the beat is certain. When he is lilting around a note he has fixated on or puncturing notes in the air the swing is less certain.
At times the music swung hard and would have suited the intimacy of a jazz club, but Coleman cannot be pigeonholed easily. Some compositions, usually the slower ones, were right at home in the concert hall, as if the quintet had transformed into a chamber group. There were explorations on classical themes including Stravinsky's Rite of Spring, Bach's Cello Suit and Amazing Grace.
In one of his pieces Coleman briefly played the violin, achieving a shimmering sound from rapid tremolo. His trumpet work was very interesting. It seemed as if one instrument melded into another. The transitions between the two instruments were not blatantly noticeable, but rather changed the atmosphere. Several times he elicited chuckles from the audience as he put his saxophone down and emitted some sharp animalistic sounds on the trumpet.
This was a very refreshing concert. He duly gave the audience their longed-for encore, finishing with Lonely Woman.
Coleman influenced many musicians. He is a true pioneer, saying what a lot of us are too afraid to say, taking music to the next level, finding new artistic spaces and showing us that we still have a lot to discover about modernity.