It would be very hard to make a bad show when the four leads are Christopher Lee, Jesseca Liu, Ix Shen and Ann Kok. I can watch Ann Kok and Christopher Lee all day. Lee has presence, attitude, charisma. Ann Kok is feisty, alluring and vulnerable, capable of playing a conniving witch, as in Bountiful Blessings, or an insecure lawyer, as she does here in The Oath.
Jesseca Liu does a fine job as surgeon Yáng Mǐnfēi (杨敏妃). Minfei is a talented young surgeon who doesn't believe that traditional Chinese medicine has a place in modern practice. Her superior, Guān Déwěi (关德伟) completely opposes it, even to the point of trying to undermine it.
The love triangle, staple of modern drama
Lead surgeon Dewei harbours secret feelings for Minfei, but she is falling for Wú Guóēn (吴国恩) (Christopher Lee), creating the ever-present love triangle that is a staple in modern drama. Although Guoen and Dewei were classmates in medical school, a controversial incident prevents Guoen from obtaining his medical licence, sending him down a different path.
The Oath's main theme explores the difference between Chinese and Western medicine. With its emphasis on rigorous testing through experimentation, Western medicine is given due respect. Western medicine prevails in Singapore, while China, it is not uncommon for GPs to work alongside traditional practitioners, even in hospital.
In Singapore, the two disciplines are more rigidly separated. The Oath highlights the strengths and weaknesses of both and does not pass judgement. My knowledge of Chinese medicine is not deep, yet I was intrigued by the acupuncture demonstrations, delivered with humour and detail. I am less convinced with the herbal remedies, but some of them, like in Western medicine, have been tried and tested over hundreds of years.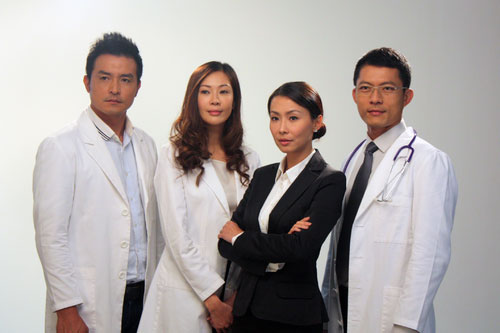 Christopher Lee, Jesseca Liu, Ann Kok and Ix Shen
Chinese medicine takes a holistic approach, viewing the body as an organism that must be balanced. Acupuncture targets qì (气) points, which can be seen as an expansion of the Indian system of chakras. The Oath could have benefited by further exploring the history and theory behind acupuncture, or 针刺 (zhēncì).
But while it lacks in this area, hospital ethics is explored in more detail. The Oath does a better job here than Taiwanese hospital drama, Wake Up, because of its research, tight script and lack of cheesy hip hop scenes (not that I don't like hip hop). Melodrama does emerge in the latter stages. But the surgery scenes are full of tension and Ix Shen plays lead surgeon Dewei with gravity, although his descent into bitterness seems out of character. Ethical issues explored include organ donation, the pitfalls of a private hospital system, and maintaining a hospital's reputation in the face of unsuccessful surgery.
Depression happens to anyone
In the subplot, Ann Kok plays Yè Zhīyí (叶芝仪), a lawyer with unfulfilled potential. Zhiyi has lost her way since her 10-year relationship with Guoen ended with him leaving to study traditional medicine in China. When Guoen returns to Singapore to practise in his father's clinic, Zhiyi tries to reignite their passion.
It might be hard to imagine someone of Zhiyi's poise succumbing to depression, unable to move on, even if her ex is the dashing Christopher Lee. But life has many colours, and the show explores the causes and effects of depression without trivialising them. Inner demons can taunt even people as attractive and intelligent as Zhiyi who have so much going for them.
As the obsessive and despairing lover, Zhiyi never overacts, whether she is pressing her authority as a lawyer, drowning her sorrows, or contemplating self-harm. She is in turns both vulnerable and self-assured. Bad casting or direction could easily have spoiled this role.
Between 1995 and 2013, Ann Kok has been nominated for a Star Award 10 times and won only once. In 2013 she won "Bottom Slim Sexiest Legs" award. "Bottom Slim" is the name of a brand, and this award was given at the after party.
The Sound of the Wind
Sound design is a major let down for The Oath. Wind on the microphones affects many scenes. Evidently The Oath didn't have a large enough budget to get the actors back in the studio to record dialogue. To patch the hissing background noise the editors have inserted music, which only makes things worse. There is some good music – the opening song is catchy, and a warm folk ballad appears halfway through the series. But much of the music could be better and the orchestral writing more restrained. One particularly annoying piano jingle repeats far too often.
Final verdict: 7.5
It took a few episodes to find its feet, but once the cast and crew settled in, everything fell into place. Early on it looked like this show might be hit and miss, but I was slowly sucked in. Loses marks for sloppy sound editing, and becomes increasingly over-dramatic.
Possibly useful vocab:
昏迷: hūnmí – coma. This show is unlikely to make you fall into one
出院: chūyuàn – discharge, from a hospital, not a body
麻醉: mázuì – anaesthetic
血压: xuèyā – blood pressure. Ann Kok raises this
手术: shǒushù – surgery